The items in this post were sent to us by the brand. We do not charge them for consideration or placement as we prefer to retain the right to not place an item that we don't truly love.
Originally posted on Champagne Living (my wife's site) with permission to repost here.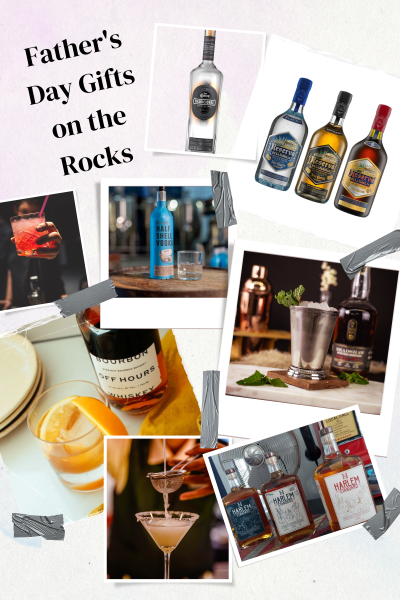 Father's Day is just around the corner, and what better way to show appreciation for the incredible dads in our lives than with a thoughtful gift? This year, skip the usual suspects and consider a present that's sure to raise his spirits—literally. Whether your dad is a connoisseur, a budding enthusiast, or simply enjoys the occasional sip of something special, buying a special bottle as a Father's Day gift is a fantastic choice. With an array of options available, there's a perfect choice out there to match his taste and celebrate his unique spirit. In this blog post, we offer recommendations to make this Father's Day truly exceptional.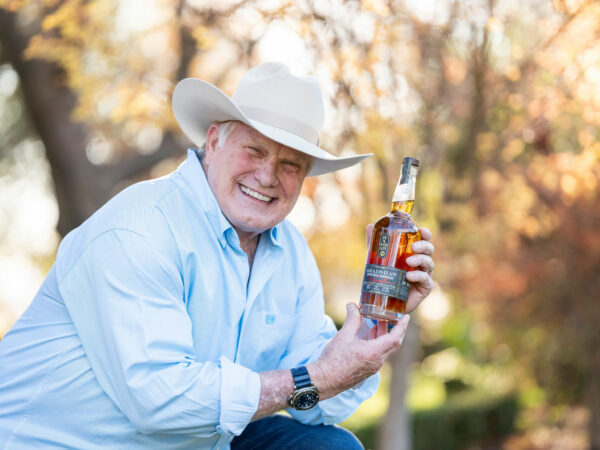 NFL legend and iconic entertainer Terry Bradshaw's award-winning Bradshaw Kentucky Straight Bourbon Whiskey has been awarded a coveted 95-point gold medal by the prestigious IWSC (International Wine & Spirits Competition).

Bradshaw Bourbon is a carefully crafted collaboration between Bradshaw and Silver Screen Bottling Company. Awarded a phenomenal 91-point rating from Wine Enthusiast, Bradshaw Bourbon is blended from the finest grains and aged in hand-selected barrels. As noted in the review, the two-year-old bourbon is "tinged with roasted nuts and vanilla on nose and palate, finishing with hints of black pepper and a waft of smoke." It has a mash bill of 70% corn, 21% rye, and 9% malted barley, and is proofed to 51.9% ABV, a tribute to the NFL Hall of Fame quarterback's career pass completion percentage. Bradshaw Bourbon is available at retailers throughout the US and Canada.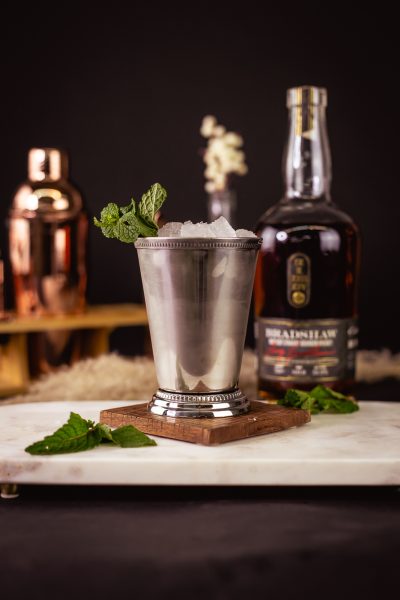 Also notable about Bradshaw Bourbon's rating is its price. Bradshaw Bourbon is available for a significantly lower price than the majority of bourbons that have been similarly awarded some of the highest marks.
Bradshaw

 Bourbon is sold throughout the United States and can be found locally with the retail finder here and ordered online at www.bradshawbourbon.com.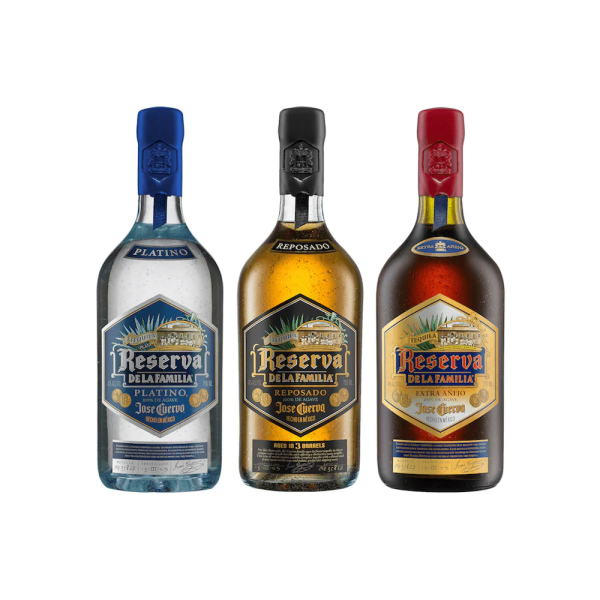 Reserva de la Familia Extra Añejo  This award-winning pinnacle of the Reserva de la Familia is made from only the hearts, or piñas, of 8–10-year-old agave plants that are cooked for a total of 48 hours. Its rich, complex taste is the result of its elaborate aging process, producing a tequila with a rich bouquet of flavors and ultra-smooth taste.  
Aroma: Rich oak, fresh coffee, fine cocoa, and sweet dried fruit 
Flavor: Rich oak, toasted almonds, coffee, and vanilla 
Reserva de la Familia Reposado  Through a unique barrel aging process consisting of heavily toasted American oak and lightly toasted American & French oak barrels, this tequila possesses rich and sophisticated qualities. 
Aroma: Pepper, cooked agave 
Flavor: Vanilla, caramel, nuts and spice 
Reserva de la Familia Platino  This premium tequila is specially made through a unique "Esencia de Agave" process – a propriety process created by Cuervo and known only by the distillers – which extracts agave sweetness and aromas from the hearts of the agave plants.  
Aroma: Intense agave, smooth notes of clove, aniseed with light touches of vanilla and caramel  
Flavor: Blue agave with hints of clove, white pepper, citrus and light spices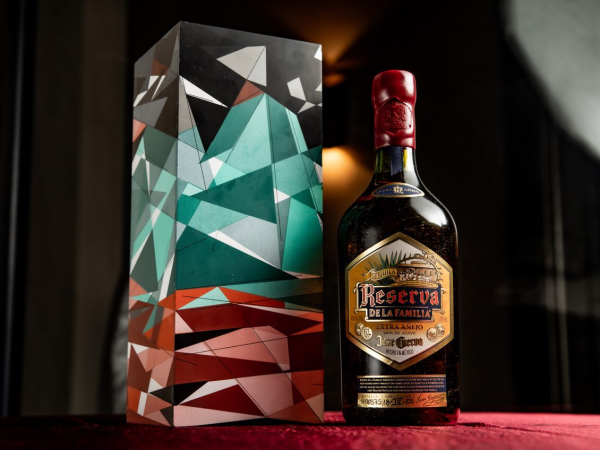 2023 Artist Box Details: The latest edition is designed by Rolando Flores and Gabriel Cázares of the Mexico-based Tercerunquinto Collective. The piece of custom art, titled "Structuring a Landscape", features a geometric abstraction of the landscape of Tequila, Mexico.
Cuervo Tradicional Cristalino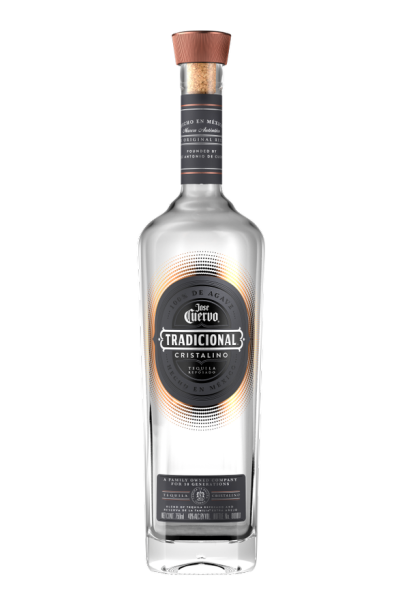 Cuervo Tradicional Cristalino is a Reposado-dominant blend of three aged tequilas that offers incredible smoothness and clear appearance, all while maintaining a rich, layered taste due to the complex aging process. Aged in new American oak and filtered to remove the liquid's color, while intensifying its purity of flavors. The result is a crystal clear, sipping tequila of exceptional smoothness. Packaged in a stylish bottle, this Cristalino is perfect for tequila lovers looking to share elegance and finesse with others.
Notes of agave, tropical fruit & subtle hints of oak 
Flavor: Vanilla and spice with a hint of melon
Order online at Drizly and Reserve Bar.
Off Hours is a modern, award-winning bourbon that's about breaking the stereotypes of the typical MadMen-esque bourbon drinker. With hints of vanilla, nutmeg, and pecans and a super silky finish, Off Hours is delicious on its own neat or on the rocks and it's so great for those who are bourbon-curious and looking to transition to this new drink of choice!  And the bottle looks quite fancy on your bar cart.
Jake Ireland (founder of Off Hours Bourbon) has found a way to combine his Midwest roots and his California cool to launch the growing whiskey brand, Off Hours. Jake lives in Los Angeles with his wife, Lauren Ireland, co-founder of Summer Fridays, and their two young children. 
Growing up in Indiana, Jake didn't seek out the alcohol industry but ended up investing in one. During his time as an investor, he learned about distilling, running a bourbon brand, but perhaps most importantly, what not to do. When determining his next professional step, he made a decision to start his own 

whiskey

 brand.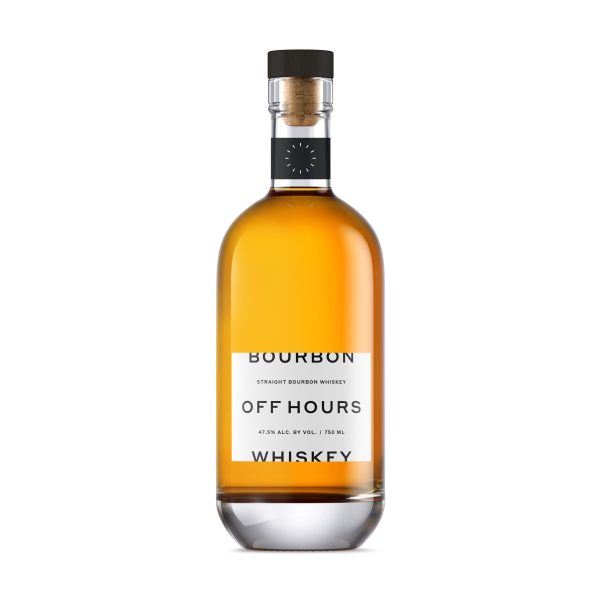 With so many 

whiskey

brands playing on history or making up a brand history, Jake wasn't afraid to start fresh, making it an approachable brand. With so many people thinking you can only enjoy 

whiskey

 straight in a glass, Jake created 

Off

 

Hours

for today's modern drinker, regardless of background, ethnicity, or what you do for a living or for fun. 
Available online at

Off Hours

 as well as Bevmo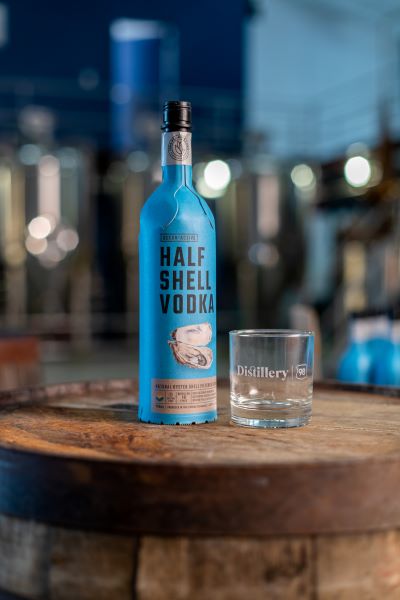 The brainchild of Distillery 98, Half Shell Vodka is a sustainable, Florida-grown spirit created to protect Florida's beaches and ecology. The first in the U.S. to package its spirit in a 94% recyclable paperboard bottle, Half Shell lives up to its moniker of "Spirit of the Panhandle" and embodies the Panhandle's legacy of community and sustainability by using 6x less carbon than traditional glass bottles. Half Shell Vodka is made with locally grown, non-GMO corn, which is later recycled into livestock feed and utilizes water from local aquifers. The spirit is filtered 18 times through a unique coconut-carbon and oyster-shell filtration system that relies on oysters regionally sourced and grown in their natural habitats.
Make Dad a Half Shell Ol' Reliable 
Ingredients: 
2 oz Half Shell Vodka

Sugar cube 

2 Luxardo cherries 

5 dashes angostura bitters 

5 dashes orange bitters 
Recipe: 
Infuse glass with smoke.

Add a sugar cube and cherry into the shaker. 

Add Half Shell Vodka and bitters.

Muddle and pour over ice. 

Garnish with cherry and dehydrated orange.
Distillery 98's focus on sustainability also translates to its distillation equipment and facility, which utilizes the spent wash to geothermically cool its equipment year-round.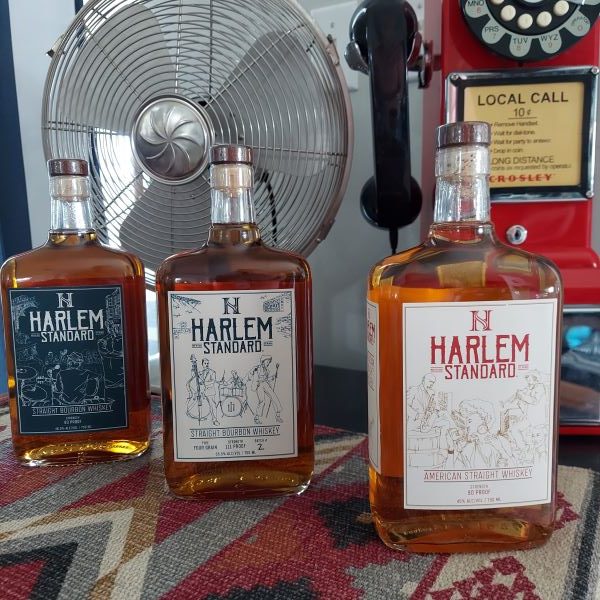 The first super-premium, proprietary blended whiskies born in Harlem and blended in Kentucky are now available on-premise and at retail at some of New York's finest establishments. Inspired by the Harlem Renaissance during Prohibition.Using old and new techniques, the whiskies are blended using the highest quality ingredients with iron-free and calcium-rich limestone water from Kentucky to create a complex yet balanced flavor profile. A portion of proceeds from every bottle sold benefits the Jazz Foundation of America's COVID-19 Musicians' Emergency Fund.
Harlem Standard has  American Straight Whiskey and two aged Straight Bourbon Whiskey offerings to satisfy multiple flavor profiles.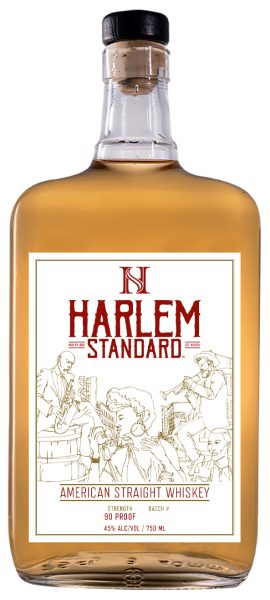 90-PROOF STRAIGHT AMERICAN WHISKEY – Harlem Standard Straight American Whiskey is a higher-proof blend of light whiskey and rye bourbon. Aged 3+ years and bottled at 90-proof, you'll relish the intertwined notes of honey maple and citrus. With a slow and sweet burn, Harlem Standard Straight American Whiskey is perfect neat, on the rocks, and in classic or uptown drinks.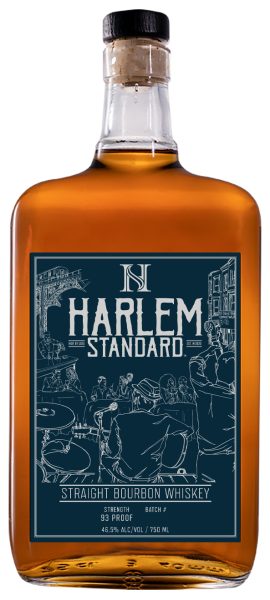 93-PROOF BOURBON STRAIGHT WHISKEY – Harlem Standard Straight Bourbon Whiskey is a high-rye blend created at Indiana's historic MGP distillery and extracted from a fermented grain mash. Aged for 4+ years and charred in American white oak barrels, you'll savor the smoothness of mellow spice and roasted nuts. This well-rounded blend is heightened by faint fruity notes and a vanilla bean finish. This bourbon is best served neat and sipped slowly.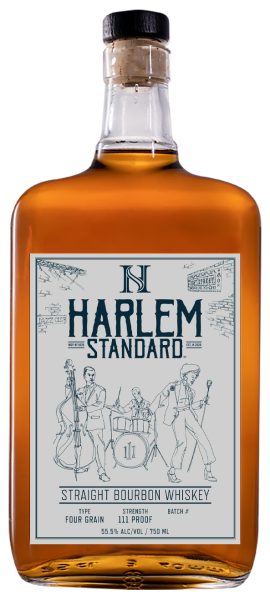 111-PROOF BOURBON STRAIGHT WHISKEY  – 4-GRAIN Harlem Standard Bourbon Straight Whiskey is our premium blend. It uses wheated bourbon and is crafted with propriety yeast and glacier water. The whiskey contains a mash bill of corn, wheat, rye, and barley malt. Aged 3+ years in new charred American white oak barrels, this 111-proof full-bodied whiskey will have you tasting hints of maple, brown sugar, and Allspice. Powerful yet harmoniously integrated for a long, smooth finish, Harlem Standard Bourbon Straight Whiskey is best served neat or in your preferred fashion.
Harlem Standard can be found at Marea, Melba's, Benoit, Edge NYC, The Bar @Moynihan, and Dizzy's Jazz at Lincoln as well as ordered online at Harlem Standard
So, raise a glass, and let's all say CHEERS to Father's Day.