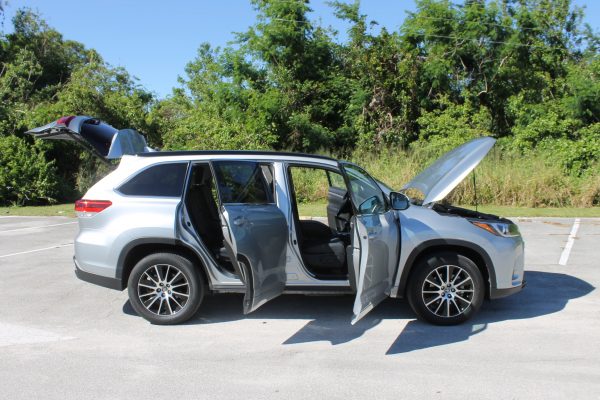 The 2017 Toyota Highlander is NOT an SUV…it is an SEV – because it does EVERYTHING so well.
My wife is an SUV kind of woman, while I love my sports cars. Funny that she fought me tooth and nail when Ben was young about having a larger car that could handle car seat, friends, sports equipment, and all of her over-the-top shopping sprees (it is THOSE times that I wish she had that old Fiat Spider that she drove when Ben was in Kindergarten). Now that it's just the two of us, she realizes how much she loves sitting high up above the road (she claims she's 5'1″, but I secretly know that she's shorter), and while she prefers reviewing the little cars, I love driving the larger ones. So, it was with that in mind that I stepped into the 2017 Toyota Highlander to give it the workout that it deserves.
The first thing I noticed was that with its 3 seats UP, it is the perfect vehicle for dropping the kids off at soccer practice. With the seats down it has plenty of room to make a Home Depot run, making this the car for families, DIY'ers, and yes…even for my wife's shopping sprees. When loaded up, it seats 7 in comfort and has great lumbar support for comfort during long drives.
The ambiguous exterior gives way to a leather encrusted interior. All of the usual Toyota features are here including Toyota's Entune Premium hub with 8″ touchscreen display and backup camera (that I just ask my wife to run because she's so much better at figuring out new systems than I am). All of the controls are within an easy reach for the driver (but I love that she gets a little annoyed every time I ask her to do it for me). There are LOTS of USB ports, and while I'd probably only use one to charge my phone, it's a HUGE plus when carting around a car full of teens or adults that need to stay connected.
A torquey engine married to a smooth transmission offers the driver and passengers the smoothest of rides. The steering is lite and easy for around town driving and tightens up a bit when I headed to do a little highway driving…making it easy to keep between the white lines. Surprisingly this SUV is on the larger side, yet has a combined MPG of 23. This is truly an SUV that you can drive with confidence.
The safety features are what you'd expect from Toyota, including Toyota's Safety Sense P, that includes a pre-collision system with pedestrian detection, lane departure alert with steering assist, plenty of airbags to protect your precious cargo (8 in all), a blind spot monitor, dynamic cruise control, and automatic high beams.
All things being equal, this lesser expensive version of the Lexus RX350 does everything its big brother can for a fraction of the price. If you've got your heart set on a Lexus, but your wallet says NO, NO, NO , the 2017 Toyota Highlander would be an excellent choice.
We had the use of a Toyota Highlander for a week in order to facilitate this post. All opinions are strictly our own.
Head to your local Toyota dealer and take this SEV SUV for a test drive.
For more information visit: Toyota.com
With the new 2018 Highlander out now, you can find GREAT deals on this car….or why not just upgrade to the 2018?